This Site is Dedicated To The First Amendment
Of The United States Constitution and The
Right of Free Speech and Free Press.

How To Sell A War
READ MORE
Special Report: Why Obama Brought Ebola to U.S. Exposed
READ MORE
New Yorkers Push for Charges in Police Chokehold Death
READ MORE
Keith Olbermann Is Clueless
READ MORE
Special Report: More Gruesome Photos Of Dead Illegals In Texas
READ MORE
La Raza Are Scum!
Alex Jones breaks down dangers of race based gangs as La Raza plans to annex southwestern U.S.
READ MORE
Ebola: Medical Martial Law?
READ MORE
Hit Song From Border Patrol Is Propaganda Aimed At — Americans!
READ MORE
FBI, Police Turn Entire Town Into Checkpoint, Interrogate Drivers
READ MORE
Don't Fear Ebola, Fear the State
READ MORE
Infowars Nighly News
Infowars Nightly News for Monday, July 28, 2014
Infowars Nighly News Tuesday July 29, 2014
Infowars Nightly News: Wednesday July 30, 2014
Infowars Nightly News Thursday July 31, 2014
Infowars Nightly News: Friday August 1, 2014
RT Breaking News
http://realnewschannel.com/
Alex Jones Show: Friday (8-1-14) Chris Burgard, Zach Taylor & Obama Phone Lady
The federal government is building a 532-bed community for illegal aliens, which includes flat-screen TVs and workout facilities, and Alex breaks it all down on this Friday, August 1 edition of the Alex Jones Show. The feds say the rooms at the facility will be called "suites" and the illegals will be called "residents." Filmmaker Chris Burgard joins today's show to discuss this current border collapse, which he predicted in his 2007 film Border. Also joining the show is former Border Patrol agent Zach Taylor, who said the collapse is government-sponsored "asymmetrical warfare" against the American people during an interview for Burgard's upcoming documentary.
RT US News
US considers broad military action against ISIS in Iraq and Syria – report
Posted on Saturday August 23, 2014
As the US has acknowledged that the Islamic State group is a greater threat than Al-Qaeda, the White House is reportedly seeking domestic legal justification at home to use unlimited military force against the Sunni extremists in Iraq and Syria.
Read Full Article at RT.com
Cop suspended over Facebook post branding Ferguson protesters 'rabid dogs'
Posted on Saturday August 23, 2014
​A police officer in a St. Louis suburb has been suspended over a series of Facebook posts, insulting Ferguson protesters, who have been rallying in condemnation of the shooting of an unarmed black teenager by a white police officer.
Read Full Article at RT.com
SpaceX rocket explodes during test flight
Posted on Saturday August 23, 2014
An unmanned SpaceX Falcon 9R rocket broke up in midair soon after it took off at the company's development site in Texas. No one was hurt in the crash, which happened during a test flight.
Read Full Article at RT.com
Cyber attack on government contractor exposes undercover agents
Posted on Friday August 22, 2014
Multiple undercover investigators had their personal data exposed to hackers after a cyber attack struck a key contractor of the Department of Homeland Security in early August.
Read Full Article at RT.com
Crowdfunding campaign for officer who shot Michael Brown spurs controversy
Posted on Friday August 22, 2014
A crowdfunding campaign in support of the officer who shot unarmed 18-year-old Michael Brown is under fire as it has raised more money to date than all of the campaigns for the victim of the shooting combined.
Read Full Article at RT.com
ISIS spokesman who pledged to 'raise flag of Allah' in US is dead
Posted on Friday August 22, 2014
The Islamic State spokesperson who threatened the United States by pledging to "raise the flag of Allah" over the White House has been killed.
Read Full Article at RT.com
34 sailors kicked out of US Navy for nuclear cheating ring, more suspects remain
Posted on Friday August 22, 2014
A seven-year-long cheating scandal at a US Navy nuclear power training site is again rocking the boat. At least 34 sailors are being kicked out of the military branch for their roles in the long-running scam, the Navy announced Wednesday.
Read Full Article at RT.com
National Guard begins withdrawing from Ferguson after 2nd calm night in a row
Posted on Friday August 22, 2014
Ferguson, Missouri remained relatively calm for the second night in a row. With only isolated arrests Wednesday and Thursday nights, a drawdown of the National Guard troops assigned with keeping the peace began Friday.
Read Full Article at RT.com
Firefighters shocked during Ice Bucket Challenge as US officials, Catholics warn against trend
Posted on Friday August 22, 2014
Four firefighters were shocked by a nearby power line on Thursday in the process of helping students at Campbellsville University participate in the 'Ice Bucket Challenge,' a social media-fueled fundraiser for ALS research.
Read Full Article at RT.com
Banksters win again: BoA settlement with US govt allows Wall St fraudsters to 'act with impunity,' critics say
Posted on Friday August 22, 2014
While the US government touted its "record" settlement reached this week with Bank of America for mortgage fraud that helped fuel the 2008 recession, the details of the agreement indicate yet another slap on the wrist for an offending Wall Street titan.
Read Full Article at RT.com
Oath Keepers
Open Letter of Warning to Governor Nixon From Missouri Oath Keepers
Posted on Friday August 22, 2014
This is an Assault on the Bill of Rights There are only two things we should fight for. One is the defense of our homes and the other is the Bill of Rights. - Marine General Smedley Butler – Two-time recipient of the Medal of Honor. Governor Nixon: The events in Ferguson have shown us daily that the [...]
Interview With A Bosnian Survivalist
Posted on Thursday August 21, 2014
I am from Bosnia. You know, between 1992 and 1995 it was hell. For one year I lived, and survived, in a city with 6000 people, without water, electricity, gasoline, medical help, civil defense, distribution service, any kind of traditional service or centralized rule.
What's The Buzz?
Posted on Thursday August 21, 2014
- - Everyone has something to say about Ferguson, Missouri's monumental moment of madness. The wire services, the channels, the stations, the headlines, the Internet, the workplace – all are abuzz with Ferguson. But is the buzz contradicted by the truth? That is not a good question, because the buzz is coming from all sides, from all points [...]
Ferguson Curfew Cancelled As National Guard Arrives; Holder Demands To "Remove The Damn Tanks"
Posted on Monday August 18, 2014
This article comes from zerohedge.com The Missouri Governor Jay Nixon gave "no heads up" to the White House before deploying The National Guard and has now made another abrupt decision as The National Guard closes in on Ferguson: *NIXON'S CALL TO HALT CURFEW TONIGHT MADE IN E-MAILED STATEMENT We presume when there are military tanks rolling through the [...]
Missouri Governor Wants National Guard To Quell Protests
Posted on Monday August 18, 2014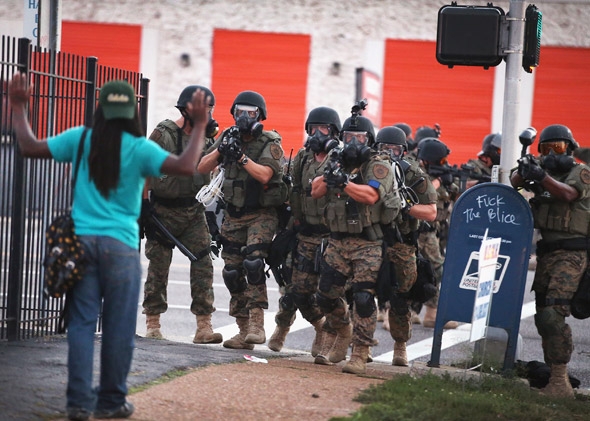 Missouri's governor said on Monday he would send the National Guard into the St. Louis suburb of Ferguson to restore calm after authorities forcibly dispersed a crowd protesting last week's fatal shooting of an unarmed black teen by police. Gov. Jay Nixon signed an executive order deploying [...]
Leaked DHS Document Predicts Rise of "Anti-Government Violence" In The NEXT Year
Posted on Monday August 18, 2014
EDITOR'S NOTE:  A rise in unconstitutional activity would certainly facilitate and inspire a rise in "anti-government violence".  Let's not forget that there would have never been a Bundy Ranch confrontation if the Feds had not denied protestors their 1st Amendment rights and inserted snipers to intimidate the Bundy family.  Perhaps the [...]
It's Time For A Prepper Reality Check
Posted on Monday August 18, 2014
This article was written by Daisy Luther and originally published at The Organic Prepper You may have enough weapons and ammo stashed away to fight the next World War all by yourself… You may have fortified your home and have 3 different routes mapped out to get to your bug-out retreat… You may have a food stockpile [...]
"Anti-Putin" Alliance Fraying: Germany, Slovakia, Greece, Czech Republic Urge End To Russian Sanctions
Posted on Saturday August 16, 2014
Last week Germany reported that in the second quarter, its GDP declined by 0.2%, worse than Wall Street consensus. This happened a few shorts days after Italy reported a second consecutive decline in its own GDP, becoming the first Europen country to enter a triple-dip recession.
Edwin Vieira: The Bastardy of Martial Law
Posted on Saturday August 16, 2014
One would presume that, in light of the seriousness of the matter, Americans would ask: "What is 'martial law'?" and "How is 'martial law' legal?"
Mesmerized And Militarized
Posted on Friday August 15, 2014
But along those lines, one of our readers has brought forward the question of whether a standing police force is or is not a Constitutionally lawful entity...
Ron Paul News
Ron Paul: Can Karzai's Antics Help Us Save Face in Afghanistan?
Posted on Monday November 25, 2013
by Ron Paul After a year of talks over the post-2014 US military presence in Afghanistan, the US administration announced last week that a new agreement had finally been reached. Under the deal worked out with Afghan President Hamid Karzai, the US would keep thousands of troops on nine military bases for at least the […]
Ron Paul: Harry Reid's 'Radical' Rule Changes Guarantees Yellen Confirmation
Posted on Thursday November 21, 2013
Ron Paul: Federal Reserve Steals From the Poor and Gives to the Rich
Posted on Monday November 18, 2013
by Ron Paul Last Thursday the Senate Banking Committee held hearings on Janet Yellen's nomination as Federal Reserve Board Chairman. As expected, Ms. Yellen indicated that she would continue the Fed's "quantitative easing" (QE) polices, despite QE's failure to improve the economy. Coincidentally, two days before the Yellen hearings, Andrew Huszar, an ex-Fed official, publicly […]
Ron Paul: The Hidden Truth about Inflation
Posted on Monday November 11, 2013
by Ron Paul One of the least discussed, but potentially most significant, provisions in President Obama's budget is the use of the "chained consumer price index" (chained CPI), to measure the effect of inflation on people's standard of living. Chained CPI is an effort to alter the perceived impact of inflation via the gimmick of […]
Ron Paul: The Interventionists Haven't Learned their Lesson from the Iraq Debacle
Posted on Monday November 04, 2013
by Ron Paul October was Iraq's deadliest month since April, 2008. In those five and a half years, not only has there been no improvement in Iraq's security situation, but things have gotten much worse. More than 1,000 people were killed in Iraq last month, the vast majority of them civilians. Another 1,600 were wounded, […]
Ron Paul: Debt Ceiling Deal a Victory for the Political Class and Special Interests
Posted on Monday October 21, 2013
by Ron Paul Washington, DC, Wall Street, and central bankers around the world rejoiced this week as Congress came to an agreement to end the government shutdown and lift the debt ceiling. The latest spending-and-debt deal was negotiated by Congressional leaders behind closed doors, and was rushed through Congress before most members had time to […]
Ron Paul: New Fed Boss, Same as the Old Boss
Posted on Sunday October 13, 2013
by Ron Paul The news that Janet Yellen was nominated to become the next Chairman of the Board of Governors of the Federal Reserve System was greeted with joy by financial markets and the financial press. Wall Street saw Yellen's nomination as a harbinger of continued easy money. Contrast this with the hand-wringing that took […]
Ron Paul Warns of Martial Law and Economic Collapse
Posted on Saturday October 12, 2013
Ron Paul: Neocons Infuriated by Iran Peace Talks
Posted on Monday October 07, 2013
Last week, for the first time since the 1979 Iranian revolution, the US president spoke with his Iranian counterpart. Their 15 minute telephone call was reported to open the door to further high-level discussions. This is a very important event. I have been saying for years that we should just talk to the Iranians. After […]
Ron Paul: The U.S. Government Won't Default
Posted on Wednesday October 02, 2013
Alternet
How the Ultra-Rich .01% Have Sucked Up Even More of America's Wealth Than You Think
Posted on Friday August 22, 2014
This is an adapted excerpt from the new book, The Economics of Revolution.
An extensive analysis of economic conditions and government policy reveals that the need for significant systemic change is now a mathematical fact. Corruption, greed and economic inequality have reached a peak tipping point.  Due to the consolidation of wealth, the majority of the population cannot generate enough income to keep up with the cost of living.  In the present economy, under current government policy, 70% of the population is now sentenced to an impoverished existence.
Let's take an in-depth look at the evidence.
I: The Ultra-Rich .01%
To see how corrupt the United States government has become, just follow the money.  According to the most recent Federal Reserve Flow of Funds report, US households currently have an all-time high $82 trillion in overall wealth.  If that wealth were spread out evenly, every US household would now have $712k.  However, as of the end of 2013, the median household only had $56k in wealth.  From 2007 – 2013, overall wealth increased 26%, while the median household lost a shocking 43% of their wealth. If median wealth continues to decline at this rate, over 50% of US households will be bankrupt within the next decade.
Photo Credit: 
Data from Bloomberg Businessweek
The fact that the majority of households are losing so much wealth in a time of record-breaking overall wealth demonstrates how systemically corrupt the economy has become.  To begin to grasp the scale of corruption, let's analyze how much wealth has been consolidated within the economic top 1% of the population.
The latest comprehensive look at wealth distribution data reveals that the "ultra-rich" economic top 0.01% of US households now has an all-time high 11.1% of overall wealth. The next tier, the 0.1% – 0.99% has 10.4%, and the top 1% – 0.9% has 18.3%.  In total, the top 1% now has an all-time high 39.8% of wealth.
When we correlate wealth distribution percentages with the $82 trillion in overall wealth reported by the Federal Reserve, it reveals that the top .01% has a stunning $9.1 trillion in wealth. In total, the top 1% has a mind-blowing $32.6 trillion.
To begin to comprehend wealth of this magnitude, one trillion is equal to 1000 billion. $32.6 trillion written out is $32,600,000,000,000.00.
Having that much wealth consolidated within a mere 1% of the population, while a record number of people toil in poverty and debt, is a crime against humanity.  For example, it would only cost 0.5% of the 1%'s wealth to eliminate poverty nationwide.  Also consider that at least 40% of the 1%'s accounted for wealth is sitting idle. That's an astonishing $13 trillion in wealth hoarded away, unused.
Once you truly understand how much $32.6 trillion is, and realize how just a fraction of that wealth could dramatically evolve society for the benefit of all, the argument for significant systemic change is solid. However, as scandalous as these statistics are, they do not factor in trillions of dollars more in unaccounted for offshore wealth, which makes the overall situation sound significantly better than it actually is and hides the true depth of the crisis from popular consciousness.  (We will analyze hidden wealth in section 4.)
Looking toward the future, current trends reveal that the rate in which inequality is growing is increasing rapidly. Overall wealth increased by $1.5 trillion in the first quarter of 2014. If wealth keeps increasing at the current rate, there will be an increase of $6 trillion in 2014.  How will this wealth be distributed? If you look at income gains since 2009, 95% of them have gone to the top 1%.
We Are The 99.99%
There are now many people within the top 1% who are much closer in wealth to the middle class than they are the ultra-rich. Greed has grown so extreme that even within the top 1% inequality is soaring. The top 1% of the 1%, the .01%, now has 28% of the 1%'s wealth.  When you factor in hidden wealth, they have an estimated 33% of the 1%'s wealth.  An individual must have over $100 million in wealth to be in the .01%.
In 1980, the richest .01% was already consolidating wealth at a systemically unhealthy rate.  Since then, they have more than quadrupled their share of overall wealth. Meanwhile, households who fall between the top 10% and the top 0.1% have actually been losing their share of overall wealth.
As the ultra-rich .01% amasses unprecedented wealth, they are forcing the overwhelming majority of the population into extreme economic insecurity and ever-increasing debt.
II: The Systematic Impoverishment of Society
If you are struggling to get by and running up debt to make ends meet, it is not your fault. It is the intentional outcome of government policy and economic central planning. In the present economy, it is impossible for 70% of the working age population to earn enough income to afford basic necessities, without taking on ever-increasing levels of debt, which they will never be able to pay back because there are not enough jobs that generate the necessary income to keep up with the cost of living.
For every 3.4 working age people, there is only one that can generate an income high enough to cover the cost of living without taking on debt.  In total, only 20% of the overall population currently generates enough income to sustain the cost of living.  As a result, poverty and declining living standards are much more prevalent throughout US society than the government and corporate media report.  Let's take a look at the reality behind mainstream propaganda…
The US Government & Statistical Fraud
The government engages in outright statistical fraud on the most often cited economic indicators, from the unemployment rate to poverty and inflation rates.  Even the use of the Gross Domestic Product measurement as an indicator for overall economic health is incredibly deceptive.
The mainstream media not only incessantly repeats these bogus measurements, they drastically underreport the growing epidemic of poverty.  According to a study by Fairness and Accuracy in Reporting, "on average, someone affected by poverty appeared on any nightly news show only once every 20 days…. An average of just 2.7 seconds per 22-minute nightly news program was devoted to segments where poverty was mentioned."
On the rare occasion when poverty is actually mentioned, the government's Census Bureau poverty rate of 15% may be cited. When it comes to the overall employment situation, you will hear the Bureau of Labor Statistics' unemployment rate, which is presently hovering around 6%. While these statistics are alarming, they drastically undercount the severity of the present crisis.  Those two statistics are pure propaganda and mask the economic suffering of over 222 million US citizens.
Before analyzing the employment situation, let's look at how the government calculates the poverty rate.  The methodology behind the federal poverty rate was designed in 1963. It is incredibly outdated and significantly undercounts how much it costs to live in today's economy. It uses the extremely flawed Consumer Price Index (CPI) inflation rate to establish the poverty threshold. Many vital economic statistics that the government reports are based on this fraudulent inflation rate.
To give a more positive impression of overall economic health, the government has "revised" the methodology behind the CPI rate over 20 times since 1970.  The CPI currently has inflation rising at a 2% annual rate.  If inflation was calculated the way it was in 1980, the current rate would be 10%. When you take a deeper look into how this difference impacts vital economic statistics, it reveals a much different picture of the US economy.
Cost of Living
While the government claims a 2% annual inflation rate, the actual cost of living has been skyrocketing.  Here's the reality of the situation…
The US now has the most expensive healthcare system in the world. There has been a 22% increase in out-of-pocket hospital expenses over the past year. In the first quarter of 2014, healthcare spending rose at the fastest pace in 10 years. The cost of giving birth has tripled since 1996, childbirth out-of-pocket expenses increased fourfold from 2004 to 2010.  The cost of childcare increased by 70% from 1985 to 2011.  From 1994 to May 2014, the cost of childcare has been more than double the CPI inflation rate.
The overall cost of raising a child has risen 40% in the past decade, not counting the cost of college.  Since 1986, the cost of college tuition has increased by 498 percent, compared to the 117% CPI inflation rate over that timeframe. Student loan debt has increased threefold over the last decade. The amount of money students are borrowing to pay tuition bills doubled from 2005 to 2012.
Looking at basic food costs, from 2002 to 2012, total CPI inflation was 28%. Consider the following price increases over that timeframe:  Eggs 73%, Ground Beef 61%, Turkey 56%, White Bread 39%, Spaghetti & Macaroni 44%, Peanut Butter 40%, Coffee 90%, Orange Juice 46%, Apples 43%, Margarine 143%.
This dramatic rise in the basic cost of living, the amount of money that people need to survive, which is all but ignored by the CPI in the federal poverty threshold calculation, only reveals part of the government's deception on poverty.  Beyond the fraudulent inflation measurement, the Census Bureau does not adequately account for the differences in cost of living based on geographic locations.  For instance, the cost of living in large population states like New York and California, as compared to the costs in more rural lower population Southern and Midwestern states.
When you realistically account for real inflation and geographically based cost of living, how much does it cost to cover basic necessities?
The Economic Policy Institute (EPI) has the most comprehensive look at the costs of living and how much money a family needs to cover basic necessities based on the city they live in. The EPI accounts for the costs of housing, food, healthcare, childcare, transportation and taxes.  They do not factor in the costs of a college education or retirement.
Based on EPI calculations, a family of four needs to make $63,364 a year to cover basic necessities.  Compare that to the government's Census Bureau calculation using the CPI inflation rate and non-geographic accounting, which puts this threshold for a family of four at a mere $23,600.
In relation to the government's poverty rate, the Economic Policy Institute's numbers sound extremely high.  However, they use very modest costs.  For example, they use Topeka, Kansas as their median family budget area and calculate the cost of housing for a family of four at only $692 a month. When you analyze geographically based costs, you can see how expensive it is for a family to live in larger population cities:
New York HUD Metro FMR Area: $94,676
Los Angeles-Long Beach: $74,605
Chicago-Naperville-Joliet: $73,055
Philadelphia-Camden-Wilmington: $77,928
Washington, DC: $89,643
San Francisco: $82,639
Phoenix: $68,742
San Diego-Carlsbad-San Marcos: $71,673
San Jose-Sunnyvale-Santa Clara: $77,619
To give more context, USA Today recently analyzed how much moderate costs of living for a family of four are today. They calculated that the average family needs to generate an annual income of $130k.  Their estimate was more than double the median EPI cost of $63k, primarily because they factored in the costs of owning a home, one car, retirement and education.
Now, consider that the current annual median household income is only $51k per year.  While overall wealth and the cost of living have skyrocketed, median household income has declined 8.3% since 2007 and 9% since 1999.  To further demonstrate how dramatically the cost of living has truly risen since 2007, while median household income declined 8.3%, their overall wealth declined 43%.
For more historical context and to further demonstrate how corrupt the government and economic system have become; if household income had kept pace with the overall economy since 1970, the current annual median would be $95k, almost double what it presently is.  On top of that, it was normal to have only one wage-earner per household in 1970, as compared to two now.
Extreme Poverty
If we look at the government poverty threshold for what it truly is, an indicator of extreme poverty, then it has a little more legitimacy. As the National Center for Children in Poverty reported on the government's poverty threshold, "Research shows that, on average, families need an income of about twice that level to cover basic expenses."
When we count the percentage of the population at double the government's poverty threshold as living in poverty, the poverty rate explodes from 15% of the population to 47%. Now you can see one of the reasons why the government falsifies the inflation rate.  The government will not make this long overdue adjustment because that would mean they have to admit that 150 million people are currently living in poverty and simply cannot afford the cost of basic necessities.
According to the Census Bureau, 28% of children are now born into poverty.  This marks a dramatic increase from an already alarming 25% in 2008.  In total, the Census Bureau reports that 22% of children live in poverty. However, when we make the proper adjustments to the methodology of the poverty rate, an even more horrifying 45% of children live in poverty. That means there are currently 33,389,063 US children living in households that cannot afford basic necessities.
It would take only 0.3% of the 1%'s wealth to lift every one of these children out of poverty.
Overall, from 2000 to 2010 the Census Bureau found that the percentage of people living in poverty-stricken neighborhoods grew from 18.1% to 25.7%. Extrapolating out to today, we can estimate that 82 million people presently live in extreme poverty-stricken neighborhoods.
Extreme poverty-stricken neighborhoods can become a relic of the past with 0.5% of the 1%'s wealth.
For a deeper understanding of why poverty is growing so rapidly while overall wealth is also growing, let's analyze the government's fraudulent unemployment statistics.
Unemployment & Underemployment
Other than the deceptive poverty rate, unemployment is much worse than the 6% that the government reports.  The 6% rate does not include part-time workers who need full-time work, long-term unemployed people who have not been able to find work for over six months, and "discouraged workers" who do not consistently look for work. When you account for those groups, as the Bureau of Labor Statistics (BLS) did until 1994, the real unemployment rate is currently 23.2%.
For an example of how deceptive government unemployment reporting is, the BLS June 2014 jobs report decreased the unemployment rate and was portrayed in the mainstream media as a very positive result with 288k jobs added.  However, in June, 523k full-time jobs were eliminated, and 800k part-time jobs were added, providing the illusion of job growth and a reduction in the government's unemployment rate.  Due to this trend, there are now over 7.5 million underemployed workers who are "part-time for economic reasons" because they have had their hours cut and/or cannot find full-time employment. None of these people are counted in the official government unemployment total.
Since 2007, well-paying paying jobs have become rare and low-paying full-time, part-time and temporary jobs have replaced them.  This has also been a downside of the new healthcare law, as companies are cutting back full-time employment so they don't have to pay for workers' healthcare. In total, 50% of jobs created over the past three years are "low-paying," mostly in retail, food service or temporary help.  Low-paying jobs pay 80% or less of median wages.
The bottom line, in a nation of 318.6 million people, with a working age population of 213 million people, there are now only 118 million full-time jobs and 28 million part-time jobs, according to the BLS. However, also according to the BLS, there are currently only 106.6 million full-time workers.  In other words, it is impossible for half of the working age population to get a full-time job. On top of that, of the current 118 million full-time jobs, 47% of them generate annual salaries below $35k per year.
III: Economic Slavery
Beyond unemployment and underemployment, the percentage of full-time working poor has grown significantly.  US workers are presently producing twice as much wealth per work hour than they were in 1980.  Instead of median incomes doubling since then, they have stagnated. The gap between wealth production and median income is now at an all-time high.
Based on the latest available individual level income data, 40% of workers make less than full-time minimum wage workers made in 1968, roughly $20k per year according to the suppressed CPI inflation rate. More realistic adjustments for inflation will reveal a much higher total. For example, the current federal minimum wage is $7.25 an hour. If minimum wage had kept pace with overall income inflation since 1968, the minimum wage would now be $21.16, which means a full-time minimum wage worker would now be making $44k a year.  However, the median annual wage is only $27,519.  Based on income inflation, only 22% of the working age population and 15% of the overall population currently have an annual income higher than a full-time minimum wage worker had in 1968.
The average person needs to generate $35k in annual income to cover the cost of basic necessities.  Looking at the actual spending habits of the average worker, you need to generate an income of $42k to cover annual expenses. If we use $35k as our threshold for a living wage, only 30% of the working age population and 20% of the overall population generate an annual income over $35k.  For every 3.4 working age people, there is one that generates an income high enough to cover the cost of basic necessities without taking on debt.
Keep in mind, that does not factor in the cost of paying off student debt.  Average student debt is presently $29,400.  If paid off over a 10-year period, at an average 4.6% interest rate, it costs $306 per month, $3672 annually. In this situation, a person needs to make an annual income of $38,672 to cover the cost of living plus their student debt. Only 27% of the working age population and 18% of the overall population generate that much income. For every 3.7 working age people, there is one that can sustain the cost of basic necessities plus the average student loan debt without taking on more debt.
Therefore, in the current economy, 73% of people with student debt will not be able to pay it back while also maintaining the cost of living, without going deeper into debt.  The US government has sentenced you to a lifetime of ever-increasing debt and ever-declining living standards.
Mathematically Eliminated from the American Dream
For a worker to cover their own cost of living and the cost of one child, they will need to make roughly $45k a year.  Only 22% of the working age population and 15% of the overall population currently generate enough income to support one child.  For every one person that can generate enough income to sustain the cost of basic necessities for themselves and one child, there are 4.5 working age people.
Now, think back to the American dream that prevailed from the 1950s – 70s.  Each family had one wage-earner supporting three children and one other adult who would care for the children.  While this was considered the "American dream," it is also the basis of a healthy society.
How healthy is our society and how many people can afford to live the American dream in today's economy?
With today's cost of living, just to cover basic necessities it will cost $80k per year to pull this off in the median family area, Topeka, Kansas.  In the current economy, only 5.8% of the population can currently generate enough income to live the traditional American dream in Topeka.  Clearly, we are not in Kansas anymore.
Levittown, New York was the first suburb that gave birth to the American dream.  Try pulling off the American dream in its birthplace and it will cost $125k a year.  Only 2% of the population can pull that off.
Once again, these baseline costs do not take college or retirement costs into account. With the reduced costs in childcare, due to one person in the family focused on taking care of the children, they can at least put some money away for college, as long as they don't go away for vacation and none of their children go to a private school.
Beyond these baseline costs, looking at moderate costs for a family of four owning a home in a median family area, with one car, education and retirement costs factored in, it will cost $130k a year.  Add a third child and a second car into the mix and it will cost roughly $150k a year.  Only 1.46% of the overall population makes over $150k per year. In other words, in the current economy, the average traditional American Dream is only attainable for the 1%.  The 99% has been mathematically eliminated from the traditional American Dream.  If they want to have a family and own a home, they are now sentenced to a lifetime of economic insecurity and ever-increasing debt.
As for retirement, if you American dreamers think you are going to retire at 65, it's time to wake up.
There Is No Escaping
According to the National Institute on Retirement Security, "the median amount a family nearing retirement has saved for their post-work lives is $12,000."  As 76 million Baby Boomers are due to retire, the real toll of this economic crisis is going to hit home in a huge way.
Up until now, Social Security has been the savior. Currently 57 million people receive Social Security benefits. In the present economy, that works out to two full-time workers for every one person collecting benefits. Adding 76 million to the 57 million people currently drawing benefits would mean 133 million retirees to 118 full-time jobs.  Even factoring in death rates, with new full-time jobs a rarity in today's economy, having one retired person to one full-time worker will soon be a reality.
In fact, Social Security is already giving out more money than it is taking in. From 2010 – 2012, there was a $150 billion deficit. However, the Social Security trust fund is supposed to have a $2.7 trillion in surplus.  In reality, all that money was already spent on wars, bailouts and tax cuts for the rich.  As Charles Hugh Smith explains, "when Social Security runs a deficit, the Treasury funds it by selling Treasury bonds, the same way it funds any other deficit spending. If the Treasury can't sell bonds, the phantom nature of the Trust Fund will be revealed."
Given the corruption in Washington and the current fiscal debate, the likelihood of Social Security maintaining it promised returns is minimal. On top of that, the dramatic rise in healthcare costs and decline in full-time jobs make the current system inadequate and unsustainable.  According to the Census Bureau, 54% of people over age 64 would be living in poverty without Social Security.
The probability that the more fortunate members of the Baby Boom generation will collect full pensions and be able to sell off their assets to cover the cost of basic necessities in this economy is also highly problematic. In "The Happy Story of Boomers Retiring on Their Generational Wealth Is Wrong," Charles Hugh Smith sums up the situation:
"[Boomers'] wealth will shrivel once they start selling assets en masse. The reality is neither Gen-X nor Gen-Y have the savings, income or desire to buy bubble-level assets from their elders. This reality has been papered over for the past 5 years of super-low interest rates, which have enabled unqualified buyers to buy overpriced assets with modest income. Once the defaults start pouring in (and/or interest rates rise), the reality will become visible: you can't cash in your wealth if there are no buyers.

There are numerous other fatal flaws with the happy story that 76 million Boomers can retire on full pensions and live off their home equity and stock portfolios…. Pension funds based on annual returns of 7.5% will be unable to fund the promised pensions when annual returns decline to negative 5%. As John Hussman has explained, every asset bubble in effect siphons off all the future return: when the bubble finally pops, average annual returns are subpar or negative for years."
Another Wave of Foreclosures on the Horizon
Since 2007, over 5.5 million families have lost their homes to foreclosure.  The impact of that is horrifying to think about.  The decision to bailout the banks to the extent that they were able to give out all-time record salaries and bonuses to the very people who caused the crisis, while millions of American families were thrown out of their homes is the epitome of tyranny and corruption.
Unfortunately, the foreclosure crisis is far from over. Six million families are still underwater on their mortgages, and this number will increase.  Their average negative equity is a shocking 33%. As Ellen Brown recently summed it up, "40% of mortgages nationally are either underwater or nearly so, meaning more is owed on the home than it is worth. Seventy percent of homes that are deeply underwater wind up in default. Worse, second mortgages are due for a reset. Over the next several years, principal payments will be added to interest-only payments on second mortgages taken out during the boom years. Many borrowers will be unable to afford the higher payments. The anticipated result is another disastrous wave of foreclosures."
Looking at the overall picture, mortgage debt-to-wages is more than double the historic average.  To make matters even worse, the Federal Reserve has been fraudulently inflating housing prices.  As part of their wealth extraction operation they currently own $1.7 trillion in Mortgage-backed securities and $2.4 trillion in Treasury securities. (We will take a close look into how the Federal Reserve has been artificially propping up asset values for the benefit of the top economic .01% and the determent of everyone else in Part 2.)
The Illusion of Prosperity & A Tsunami of Debt
The inevitable insolvency of the overwhelming majority of the population hasn't hit home yet because they have taken on ever-increasing levels of debt to maintain the illusion of prosperity.  Other than the staggering national debt that the corrupted government has run up, US citizens have now taken on $12 trillion in personal debt.
On average, that's $50k of debt for every US citizen over the age of 17.  Again, it cannot be stated enough, in the current economy under present government policy, it is impossible for this debt to be paid off while maintaining the cost of basic necessities.  Therefore, overall debt will continue to skyrocket.  Even if interest rates on these debts dropped to 0%, as the Federal Reserve has done for a select few of their friends on Wall Street, there is no way for people to earn enough income to keep up with cost of living, let alone pay back their debts.  On top of that, the already usurious interest rates on these debts are increasing. In fact, the spark that set off the global financial crisis in the first place is heating up once again:
"During the first quarter [of 2014], 3.7 million credit cards were issued to subprime borrowers, up a head-scratching 39% from a year earlier, and the most since 2008. A third of all cards issued were subprime, also the most since 2008….  In the first quarter, the average [interest] rate was 21.1%, up from 20.2% a year ago, while prime borrowers paid an average of 12.9% on their credit cards, and while banks that are lending them the money paid nearly 0%."
If current trends continue and current policies remain in place, 90% of the US population is heading for insolvency.  That may sound like an exaggeration that is too absurd to be true.  However, as the Guardian recently reported in an article headlined, "The Coming Debt Tsunami:"
"So why look down the road – say, to 2017 – and worry?  Here's why: because the debt held by American households is rising ominously. And unless our economic policies change, that debt balloon, powered by radical income inequality, is going to become the next bust….

Falling government deficits are being replaced by rising debts on everyone else's ledgers…. the majority of Americans – the 90% – will once again do what was done before: borrow, and then borrow more.   By early 2017… it should be apparent that we're reliving an alarming history. Middle- and low-income households have been following a trajectory of an ever-higher ratio of debt to income….

The evidence demonstrates that the de-leveraging of the very rich and the indebtedness of almost everyone else move in tandem; they follow the same trend line.  In short, there's a strong and continuous correlation between the rich getting richer, and the poor – make that the 90% – going deeper into debt…. The more – proportionally – that the top 10% has prospered, saved and invested (naturally, the gains found their way into the financial markets), the more the bottom 90% has borrowed….

Insolvency for the 90% has become… 'the new normal'. Unsustainable? Of course….  Under the current disastrous economic and tax policies, we can look forward to rapid increases in debt for both corporations and households from at least 2015 to 2017: a tsunami of debt."
The first wave of the coming tsunami of debt has already begun to wash ashore. For the first time since the depth of the recession, credit card debt is now rising faster than wage growth, yet another ominous indicator of what's to come.
Crimes Against Humanity
Behind all of the statistics presented in this report is immense physical and psychological trauma. The stress of economic insecurity compounds the problem by leading to health problems, which dramatically increase costs of living.  Economic insecurity drives people to expensive healthcare, medications, drug use and crime. Beyond the moral and humanitarian imperative, recent studies prove that the cost of poverty to overall society is far higher than the cost of eliminating poverty.
The shortsighted greed of the .01% is causing the unnecessary suffering of an unprecedented number of people.  Their consolidation of wealth has created a system of economic slavery.  In a wealthy and technologically advanced society, it is a crime against humanity for a majority of the population to be toiling in extreme debt, poverty, unemployment and low-wage jobs.
Related Stories
We Aren't Trying to End Global Terror: We're After the Oil
Posted on Friday August 22, 2014
Thirteen years after the attacks of September 11, and with much said and written about ISIS and the gruesome beheading of James Foley, America continues to misunderstand the roots of Islamic terrorism. We also fail to acknowledge that as long as we remain addicted to cheap oil we will be locked in a war in the Middle East. 
You won't hear Middle East oil mentioned on the cable news airwaves. You will hear "clash of civilizations,"" religiously motivated terrorism," and any number of similar phrases that are meant to distract and divert us from facing the central dispute between us and the Muslim world: we are addicted to the oil beneath their feet, and we intend to dominate the land they stand on.
The Muslim world isn't as ignorant as Christian crusaders, the military industrial complex and the vast know-nothing right wing would have you believe. After all, what uncivilized, stupid people could produce algebra, geometry and our concept of the rule of law? The Muslim world is smart enough to figure out that America has invested all of the past 70 years into dominating control of Middle East oil supplies. We have propped despotic regimes and brutal dictators, overthrown democratically elected governments and waged three wars in two decades on Muslim soil. All while we fund and are complicit in Israel's illegal occupation and theft of Palestinian land.
ISIS is the product of our own imagination and self-serving meddling. After we removed Saddam and his Sunni quasi-government, ISIS was the response by those Sunnis blocked from enjoying economic participation in Iraq. 
It's time to face reality and the monster in the mirror: we are not trying to end global terror, nor are we trying to promote Western secular democracy in the Middle East. Our motivations and desires are no secret. We do everything to ensure that we, and our allies, particularly Japan, have a reliable supply to the region's liquid gold.
With a total of 44 U.S. military bases in the Middle East and the Central Asia, we have the Muslim world completely surrounded. From Turkey to Saudi Arabia, from Uzbekistan to Kyrgyzstan, our bases serve as a constant reminder to Muslims that we control their economic future and we are here to stay. And with an economic future that looks bleak for Muslims, the embers for Muslim rage are stoked.
"Terrorism is not a supply-limited phenomenon where there are just a few hundred around the world willing to do it because they are religious fanatics. It is a demand-driven phenomenon. That is, it is driven by the presence of foreign forces on the territory that the terrorists view as their homeland. The operation in Iraq has stimulated suicide terrorism and has given suicide terrorism a new lease of life," writes Robert Pape in Dying to Win: The Strategic Logic of Suicide Terrorism.
The U.S. State Department has announced that Westerners, mostly British Muslims, are being drawn to ISIS. Media outlets everywhere ask why. The answer is clear. The UK has the greatest concentration of Muslims among Western democracies. Muslims were pulled from former British colonies during the 1940s to provide cheap labor for the reconstruction of Britain in the aftermath of the second world war. The textile and steel mills in the north of England were filled with Muslim migrants from Asia and Africa.
Industrial collapse turned these mills into dust heaps, and today Muslim urban ghettos in the UK now resemble the socio-economic conditions of predominately black urban ghettos in America. For British Muslims, high unemployment is the norm, as is racial discrimination and anti-immigrant violence. For many, economic and social oppression at home looks a whole lot like the social and economic oppression that is occurring in Muslim countries abroad. The collapse of liberal democracies in the face of unfettered capitalism has failed minorities everywhere in the West.
Socio-economic insecurity is at the heart of all self-proclaimed religiously motivated extremism. Where social justice prevails, and the state meets the economic needs of its people, hyper-religious ideologies lack appeal.
French political scholar Oliver Roy argues, "This notion of a globalized Islam is not the product of any specific 'Islamist' organization but a broad sociological trend that has developed across Europe as a result of racism, migration, and globalization." In Palestine, Chechnya, Kashmir, Bosnia, Kosovo, and Iraq, Muslims have been oppressed and had war waged upon them. "In principle—all the struggles for Muslims around the world were to be regarded as equally important" in this global ummah, Roy writes. This is why we now find Western Muslims in Syria, Iraq, Libya, Yemen, and Afghanistan.
In returning to the Middle East, and its oil, our posture and actions promise to become even more aggressive, as oil reserves inevitably diminish. In an in-depth look into Saudi oil production over the past 40 years, Matthew R. Simmons warns in his book Twilight in the Desert: The Coming Saudi Oil Shock and the World Economy that Saudi oil production is a far cry from the boastful claims long made by the kingdom regarding the robustness of its oilfields. According to Simmons, Saudi oil production peaked at 10 million barrels a day in 1981. Today it is 8 to 9 million barrels and falling. No super giant oil fields have been found in the region since the 1950s.
The very reason U.S. military bases, which are the size of small cities, exist in Saudi Arabia is to ensure our access to this diminishing supply. The oppressive Saudi regime wants us there to ensure neighboring countries don't eye their oil. The central and founding charter of Al Qaeda was to remove our bases from the Holy Land. It was no coincidence that 17 of the 19 9/11 hijackers were Saudis.
"We can have peace when we shut down our bases, stay the hand of the Israelis to create a Palestinian state, and go home, or we can have long, costly, and ultimately futile regional war. We cannot have both," warns Chris Hedges. With our addiction to Middle East oil supplies, we can expect the latter, which means 2001 was the start of our endless war with the Muslim world.
Related Stories
Gay Marriage is Good. But a Key to It's Success is Future Corporate Profits
Posted on Thursday August 21, 2014
Gay marriage changes everything, enhancing our commitment to fairness and tolerance, and removing the stigma from the natural human desire for commitment. Such developments are positive and profound. But one thing hasn't changed: when two people who have resources to spend come together, it's a boon to the whole economy.
Florida has banned same-sex marriage, and the state is currently waiting to see if the U.S. Supreme Court will deem that move unconstitutional. Meanwhile, a new study by UCLA's Williams Institute reveals that Florida's economy could get a turbo-charge to the tune of millions by allowing gay Americans to tie the knot. The report estimates that over 24,000 same-sex couples would get married over the next three years if given the opportunity, which could mean a $182.2 million infusion to the state's economy. That's $117 million in the first year alone. The money comes from tax revenue when couples file jointly, marriage license fees, and sales tax from weddings, celebrations and tourism.
Gay marriage brings jobs, too, the report shows. All those cakes, photographers, wedding planners, and tourist services could generate as many as 2,626 jobs for Floridians in need of work.
And those estimates are conservative, say authors E.G. Fitzgerald, Christy Mallory and M.V. Lee Badgett: "In other words, all assumptions are cautious and, given the range of possibilities, likely produce revenue impacts on the lower bound," they write in the summary of their study.
The report jibes with a 2009 study on marriage equality in Maine, which found that allowing same-sex couples to marry would boost the state budget by $60 million over three years, and create 1,000 jobs. In New York City alone, the passage of the Marriage Equality Act generated $259 million for the city's coffers.
The positive economic ripple effects go beyond the immediate benefits of taxes and jobs. Richard Florida has argued that workers and businesses are drawn to geographic areas where they find tolerant policies  and attitudes. This is especially true of the kinds of creative people who can really make an impact in the business realm. They put down roots in the community and contribute not only to economic, but social stability.
The fact that businesses stand to benefit when same-sex couples are permitted to marry is one of the key reasons why a sea change in social policy is occurring. Consider the coalition that has pushed for gay marriage: You have gay activists, many of whom are well-heeled, like billionaire media mogul David Geffen, and can exert significant pressure on politicians. You also have powerful corporate executives, with their armies of lobbyists and outsized influence. That combination is an irresistible force in a money-driven, capitalist system.
In Indiana, two corporate giants — Cummins Inc., the world's largest maker of big diesel engines and Eli Lilly, the top U.S. maker of insulin products — are campaigning against a constitutional amendment blocking gay unions with a clear message: "A ban would tell talented workers to stay out of Indiana." In New York, the push to recognize gay marriage got big financial support from Wall Street, including conservative financiers and big GOP donors.
When financiers and conservatives see dollar signs, suddenly social change looks acceptable, even desirable. Advocates from the most conservative ideological position will use words like "freedom" and "justice" to make the case for gay marriage. Behold hedge fund titan Steven A. Cohen, who runs SAC Capital Advisers and is a key figure in Republican fundraising, explaining his support for same-sex unions: "We believe in social justice for all Americans."
But when it comes to things like reproductive rights for women, notions of justice and freedom often fall by the wayside. The Wall Street Journal has repeatedly supported attempts to restrict the freedom and autonomy of women trying to make decisions about their lives and health. Steve Forbes, CEO of Forbes, Inc. and erstwhile GOP presidential candidate, is a notorious anti-abortion proponent.
As women gain financial power, we may start to hear these capitalists start singing a different tune. The majority of libertarians, the mouthpieces for corporate capitalism, are already on board with abortion rights. The Religious Right is doubling down on anti-abortion hysteria. For now, they think they can wage a war on women. But a war on women with money? That's their challenge in the future.
Related Stories
Confusing Activity with Productivity: How a Lot of Work is Pointless
Posted on Friday August 22, 2014
This week, a survey of more than 500 American employees revealed – and I'm using the word "revealed" in its journalistic sense, to mean "confirmed the staggeringly obvious fact" – that nobody's paying attention during conference calls. Sixty-five per cent of those questioned said they did other work at the same time as pretending to participate; 55% that they prepared or ate food; 47% that they went to the bathroom; and 25% that they played video games. Twenty-seven per cent confessed to falling asleep at least once during a call, while 5% said they'd had a friend pose as themselves in order to skip it completely.
The surprising parts are a) that the survey was commissioned by Intercall, a conferencing technology firm you'd have thought might have a vested interest in promoting the message that conference calls are not largely pointless; and b) that the rest of the time, we're so expert – senior and junior employees alike – at maintaining the pretense that they are worth our valuable working hours. We already knew that many meetings are a waste of time and a drain on productivity. But the Intercall survey makes things clear: when a meeting isn't face-to-face, and participants are free not merely to daydream about eating lunch, playing Swing Copters or relieving themselves, but actually to do those things, pretty much everyone does.
Rob Bellmar of Intercall, quoted at the Harvard Business Review, is surely right that conference calls are a classic case of "confus[ing] activity with productivity", or effort with results: long calls are tiring and unpleasant and swallow up time, so it's easy to conclude that they must therefore have been useful. In fact, that doesn't follow; a focused two-hour workday followed by a trip to the beach might well have proved more worthwhile overall. 
The survey findings are also a great illustration of the truth that if you don't take breaks, they'll take themselves. As the psychologist and neuroscientist Daniel Levitin explained in the New York Times the other day, there's growing evidence that we're best advised to take real brain vacations: to divide time clearly into work and non-work, and not to mix types of work; to "partition your day into project periods", checking email and social media at specific times only, and so on. (A good rule of thumb, if your job permits it, is Tony Schwartz's 90-minute approach: an hour and a half's work, followed by 30 minutes of real restoration.) 
Fail to take those breaks, and the result won't be hour after hour of unbroken productivity; it'll be an inability to concentrate on the least compelling parts of work. Such as epically tedious conference calls. 
Far better, of course, is to abandon the pointless conference calls and encourage everyone to go for a walk or take a nap. So why don't we? We like to think of this kind of futile pseudo-work as being foisted upon us by misguided Dilbertesque managers who foolishly believe it to be beneficial. In many cases, though, I suspect the rise of fake work has everything to do with everyone sincerely believing that it's a good idea. A thinks B and C will want an update on what she's been doing, even though frankly she'd rather not bother; B isn't really interested, but, well, A wants to hold the call, so fair enough. And C doesn't want to get on the wrong side of A or B by resisting their wishes. Everybody's time is wasted in the mistaken belief he or she is acceding to everyone else's wishes.
In other words, the Abilene Paradox – a term coined in the 1970s by the management writer Jerry Harvey following a family outing in which nobody actually wanted to take a four-hour trip in searing heat to the Texas town of Abilene, but everyone did, so as not to rock the boat:
To break the silence, I said, 'It was a great trip, wasn't it?'

No one spoke. Finally my mother-in-law said, with some irritation, 'Well, to tell the truth, I really didn't enjoy it much and would rather have stayed here… I wouldn't have gone if you all hadn't pressured me into it.' I couldn't believe it. 'What do you mean 'you all'?' I said… 'I didn't want to go. I only went to satisfy the rest of you. You're the culprits.'

My wife looked shocked. 'Don't call me a culprit. You and Daddy and Mama were the ones who wanted to go. I just went along to be sociable…' Her father entered the conversation… 'Listen, I never wanted to go to Abilene. I just thought you might be bored.'
One of the best ways to combat this problem, Harvey explains, is simply to draw attention to it: to point out that a given meeting or project might be "a trip to Abilene". 
But you need a certain degree of seniority or job security to get away with that. And so, as summer gives way inexorably to the season of getting back down to work properly again, here's a suggestion for anyone with a modicum of managerial clout in the office: is there one recurring pointless work activity – one activity that everyone knows is pointless – that you could eliminate, possibly even just by naming it out loud, thus breaking the spell? Don't hold a conference call about doing it. Just get on with it.
Related Stories
Striking Teacher Churn in Charter Schools
Posted on Friday August 22, 2014
High-quality teachers are integral to academic achievement, experts agree, from Finland and Singapore to East New York and Morrisania. Cultivating excellent teachers and retaining them in the profession are paramount goals, shared by a bevy of bedfellows usually at odds in the education-reform debate, from teachers unions to charter-school champions like the Gates, Walton and Broad foundations.
But according to data from the New York State Department of Education, charter schools in New York City lose far more teachers every year than their traditional school counterparts. In some schools, more than half of faculty "turn over" from one school year to the next, according to NYSED school report cards.
Charter advocates at the New York City Charter School Center and at Success Academies, the city's largest charter network, say that at least some of the turnover is due to movement within school networks—teachers moving up the leadership ladder, for example, or to seed the faculty of new schools, which have opened at a rapid clip in recent years.
But even so, it's hard to explain a churn of more than half the veteran faculty, which is the case at 15 percent of charter schools for which the state reports data.
With so much scholarship on developing and holding onto talented teachers, why are New York's charter schools essentially draining of talent every year, with schools routinely losing a third, half, or, in extreme cases, up to two-thirds of classroom teachers? What happens to schools when faculty lounges have revolving doors? And how do charter leaders and advocates respond?
Big numbers, some disputes
New York State collects information on myriad data points for traditional and charter schools alike. Because so many charters opened late in the final Bloomberg term (or were scheduled by Mayor Bloomberg's team to open early in Mayor de Blasio's tenure), not all data is available on all 183 charter schools currently open. NYSED posted 2011-2012 teacher attrition data only on 70 city charter schools, tracking how many teachers left their jobs within their first five years of teaching and how many left overall.
Of the schools with available attrition data, 15 lost at least half of their teachers with five years or less experience. Another 13 schools lost at least 40 percent of these less-experienced teachers.
Teacher Turnover, 2011-2012: New Teachers (click to see the chart)
The situation is not much better for veteran teachers, who are often the minority in charter schools: Of the 70 schools, 10 lost more than half of their veteran faculty in the '11-'12 academic year; 24 schools saw more than 40 percent of experienced teachers exit. (See the chart below.)
Near the top of the turnover chart is the Success Academies system led by former Councilwoman Eva Moskowitz. With 22 schools and 10 new schools opening in August 2014, it is the city's largest charter chain.
In Harlem Success Academies 1-4, the only schools for which the state posted turnover data, more than half of all teachers left the schools ahead of the 2013-14 school year. In one school, three out of four teachers departed.                                 
But Moskowitz's network cites different figures. "Our teacher retention rate is 83 percent," says Ann Powell, senior managing partner for communications. "This work is extraordinarily hard, and while we'd like the rate to be 100 percent, we could not be more proud of our teachers and leaders."
Indeed, statistics from sources other than NYSED point to lower attrition rates—though the numbers are still substantial. According to a 2012 report from the New York City Charter School Center, average teacher attrition rates in New York City charters ranged from a low of 26 percent to a high of 33 percent, or one in three teachers—compared with traditional-public-school attrition rates of 13 to 16 percent. Those numbers are averages, incorporating attrition rates from all city charter and traditional public schools.
Teacher Turnover, 2011-2012: All Teachers (click to see the chart)
C is for Consequences
Attrition matters a great deal for teachers in the schools, whose professional community must consistently adapt to new teachers, experts say, and to students who—accustomed as they may be to changing teachers every year—bear the subtler effects of being the human guinea pigs for rookie teachers in their debut academic posting.
Even Teach for America—which places young college grads in high-need, urban classrooms for a two-year teaching commitment, and currently has nearly 500 teachers in city charter schools—understands the value of experience: "We know that teachers with more experience under their belt are often more effective," says TFA communications director Katie Ware.
To better understand the charter churn, City Limits asked the New York City Charter Center, NYC charter schools' umbrella organization, for comment. They declined to comment for the record but suggested we contact the NYC DOE, whom we'd also asked for clarification. DOE spokesperson Harry Hartfield told us to talk to the charters themselves because Tweed doesn't track charter data. Meanwhile, the state education department said only: "The Department will work with the schools to resolve any discrepancies that may exist with the numbers reported."
While education agencies and institutions seem to be punting the ball, it seems likely that individual charter schools are taking note of the turnover issue.
Moskowitz famously expressed frustration about exiting faculty in 2011, when about a third of school staff left her school network for other jobs—midyear, after the school year had commenced. (Some even sent midnight emails resigning their positions, according to The New York Times.)           
        
"It's hard for kids and families when you have an exodus," Moscowitz wrote in a newsletter to the school community. She also wrote to staff members, "This is not a 'gig,'" charging that the midyear exits were unethical.
Worth noting is the fact that despite the high reported annual teacher turnover within her network, scores on state standardized tests remain high for Success Academy , as they do for many other charter-school students, often surpassing nearby traditional public schools, particularly in math. And Success students outstripped thousands of other city kids in the most recent round of standardized tests. But whether test scores are proxies for good teaching or proof of a commitment to comprehensive test prep remains an open debate.
City Limits also asked the Harlem Children's Zone about attrition at their charter schools: According to the state figures, nearly 40 percent of less-experienced teachers left the flagship Promise Academy school, as did 36 percent of veterans. HCZ declined to address attrition directly, but offered the following statement from new HCZ head Anne Williams-Isom: "All 12,000 of our kids, including the 1,800 in our charter schools, are well aware that they are surrounded by a community of caring adults. . . . They understand that this organization is here for them for whatever they need, 24/7, until they graduate college."
C is for Causes
One veteran charter school teacher who requested anonymity, wary of her school's response to her comments, says that even as schools use teachers, teachers use schools—as way stations to other, long-term goals. Often, she said, new teachers work for a year or two at a charter school to buff up a resume, ahead of a search for a union job. "People go there [to charters] until they can get another job. It's a stepping stone to a teaching career, to a union job with benefits, like vacation, and tenure."
Meanwhile, across the charter sector, research has confirmed that teachers who shoulder demanding workloads—often ranging from 60 to 80 hours a week—burn out. According to Torres's 2013 study, a teacher with an unmanageable workload faced a 370 percent greater risk of leaving than a less-burdened peer.
Plenty burn out when schools require very long days, evening and weekend work. "The workload is particularly challenging, especially for people coming fresh out of college," the veteran teacher said. "And there's not a lot of protections for teachers. It's easy to get fired." Easy, too, for people to quit—as they do, throughout the school year.
Daunting workloads are cited as possible reasons to leave by many sources, including education historian and advocate Diane Ravitch, education professors Pedro Noguera and David Bloomfield, as well as advocates at Teach for America, Success Academies and the New York Charter Center. Long days, evening obligations, weekend events are all routine. Many teachers work a 10 or 12 hour day, and pour their hearts into the work.
That demand reflects the kind of intense commitment that's feasible short-term but can become unsustainable in the longer run, as personal responsibilities accrue, as they do for most who move from their 20s into their 30s, 40s and beyond. And it's plain exhausting, emotionally and physically, many say: The kind of white-hot passion that compels an idealistic 22-year-old, fresh out of college and into a South Bronx classroom, tends to burn out in time.   
At the same time, stringent teacher evaluations, characteristic of many charters, can urge consideration of another profession. (Not all teachers who leave do so on their own initiative.)
"Some schools have a financial incentive to hire less experienced teachers, since they are paid less," Noguera tells CityLimits.org. "It's impossible to generalize," he cautions, but adds that "teachers in charter schools typically work longer hours and in many cases have no avenues to express concerns about working conditions since they are not represented by unions."
Ravitch says that high turnover suggests one of two things—and possibly, she says, both are true. "One, difficult working conditions; two, people who entered teaching with no intention of making it their career." Ravitch cites the familiar example of Teach for America's two-year requirement. And according to Powell, Success Academies offers a teacher-training program that requires only one year of service after certification.
Bloomfield points to a phenomenon of young teachers gaining experience in charters, then moving into union schools. "Without unionization, demands on teachers may be more onerous," and compensation, in terms of salary, benefits and pension, much less than UFT teachers earn. Bloomfield says that teachers with a year or more of experience may then opt to move into the traditional publics. Conversely, he notes, teachers from traditional DOE schools may work at charters for a year or two, then return to DOE/UFT settings to maintain their benefits, which do not move with them into the charter sector.
"Budgets matter, too," Bloomfield said. "In a non-tenured system, experienced teachers are let go, as they become more expensive."
The 2012 Charter School Center report raises another troubling issue, shifting focus from the classroom to the principal's office: It notes that about one in five charter school leaders were brand new in the 2011-12 academic year—compared with one in 25 in traditional DOE schools. New principals are an inevitable part of opening new schools, of course, but new leadership carries risk. According to Chris Torres, a researcher at Montclair State University who studied city charters while at NYU, new school leaders lose more teachers than veterans.   Typically, Torres wrote, if a principal was in his or her first year, "the odds of teachers deciding to leave . . . are between 2.4 and 3 times greater." This is particularly resonant given the rapid expansion of the charter sector.
G is for Growth
Attrition matters more as charters multiply, particularly among New York's most impoverished neighborhoods: Nearly two-thirds of charter schools are in Harlem, Central Brooklyn and the South Bronx. Demand for charters is steep and persistent—on this, there is no argument—as parents look to charters as no-excuses alternatives to local schools.
But as the sector grows—with 14 new charter schools coming on line this fall, bringing the total to 197 schools—it's important to consider how (or whether) the charter sector develops the kind of teaching talent that's in the profession for a long enough haul to make a difference: Academics and teachers in the trenches agree that most teachers hit professional proficiency within three to five years of entering the profession, and that growth ideally continues over decades.
Many schools counter the attrition drain, according to Torres, by taking turnover "as a given" and shore up curriculum systems to withstand changes in personnel. "It's too bad [that teachers leave], but it's part of the climate," said the charter-school teacher from Queens. "Basically, you just keep going."
Unfortunately, the data so key to accountability—across the public sector, and among charters in particular—are lacking, despite ample anecdotal reports (and strong opinions, on both sides of the question). Unless and until the schools, the networks, the New York City Charter Center or the State, which authorizes and renews charter schools, begin to track and analyze attrition, understanding why teachers leave charters at twice the rate of their traditional-public-school peers remains a mystery that risks potential harm to students, teachers, schools and the New York communities they serve.

For now, says the veteran teacher, it's best not to get too attached, the teacher said. "I compare it to watching a movie about Viet Nam," she told City Limits. "You should never get too attached to anyone in your platoon."
Related Stories
Why Everyone Freaked Out Over a Book Teaching Kids About Sex
Posted on Friday August 22, 2014
As we reported last week, a California school district pulled a health book featuring a chapter on sex after parental protest. A petition with more than 2,000 signatures claimed that the book "exposes youth to sexual games, sexual fantasies, sexual bondage with handcuffs, ropes, and blindfolds, sexual toys and vibrator devices, and additional instruction that is extremely inappropriate for 13 and 14 year-old youth." To be totally clear, the edgiest passage in the book, which had been approved by the Fremont school board for ninth-graders, simply acknowledges that sexual fantasies, sex toys, phone sex and bondage exist.
For reals, this furor is actually happening in the age of "Fifty Shades."
With the story getting play nationally and internationally, I decided to contact one of the authors of the book to get her response to this brouhaha. "I am forever optimistic that the world is changing and so these types of responses do catch me off guard," said Sara Mackenzie, assistant dean at the University of Washington School of Public Health. "However, being an adolescent physician who has delivered many babies to 13- to 18-year-old women, nothing surprises me too much." Mackenzie says that as a culture we love to talk about, sell and even watch sex, "and yet to actually provide factual education about our physical anatomy and physiology of 'private parts' becomes pornography." Ugh, sigh, yes. Exactly.
Mackenzie points out that it's not a "sex book," as it's commonly been referred to in the media. Only one of its 18 chapters focuses on sex. She also doesn't buy the argument that the book isn't age appropriate just because it's targeted to college freshmen. "At least at my university, college freshmen can range in age from 16 to 20 and so it is certainly age-appropriate material." Mackenzie says she gave copies of the book to her own daughters at age 13, but adds, "Of course, they have also grown up with dinner conversations about pregnant middle school students!" Lucky them. Seriously.The parental outrage can be in part blamed on a misinformation campaign that persists even in the face of compelling proof that comprehensive sex education has a hugely positive health impact. "The evidence supports that education does not encourage youth to become sexually active — it just improves rates of planned pregnancy and STI reduction if a youth decides to be sexually active," she said. "Youth need facts, and need to have reliable sources of information and learn health literacy," she argues. "They certainly have access tolots of information and parents need to understand that even with the most engaged parenting and parental control technology their kids are going to get information about sex."
It seems a lot of these objecting parents could stand to closely read the book themselves. "A strong focus of the book is encouraging people to consider public health and its role in improving the health of our country," she said. And part of that message, she says, "is that our environment and communities play a big role in health outcomes for communities and by limiting information and health literacy, a disservice is being done."
Related Stories
8 Most Homophobic Religious Protest Signs
Posted on Friday August 22, 2014
These hateful homophobic church signs are made not by clergy, but rather the flocks they shepherd: Christians, Jews and Muslims alike. Enjoy!
1. Loophole for lesbians? This sign focuses on the solution to the "problem" of gay marriage. And that solution is hanging. The sign, on display at an Indianapolis rally during the National Organization for Marriage's Summer for Marriage tour, is based on the book of Leviticus: "If a man also lie with mankind the way he lieth with a woman, both of them have committed an abomination. They shall surely be put to death. Their blood shall be upon them." Sure, this open call for executing gay men is way harsh. But it is surprisingly promising for lesbian women. Guess they can lie with women however they want. Also, where are the signs for enforcing the other punishments laid out in Leviticus, like killing people who curse their parents; shunning people who shave or cut their hair; wearing clothes made of mixed fabrics; having sex with menstruating women; and banning flat-nosed, "lame" or "blind" people from entering the altar of god.
2. GAY: Gay-related acronyms for Yahweh. If you've ever wished you had a mnemonic device for bigotry, you're in luck! You'll never forget why you hate the homos, thanks to this helpful and clever sign, which was held at a rally attended by 2,000 people in support of a North Carolina pastor who was under attack. What was his crime? He offended people during a Mother's Day sermon when he quoted the Bible verbatim and said, "I figured a way to get rid of all the lesbians and queers….Build a great big large fence—50 or 100 miles long—put all the lesbians in there. Fly over and drop some food. Do the same thing with the queers and the homosexuals and have that fence electrified so they can't get out. And you know what, in a few years, they'll die out. Do you know why? They can't reproduce!"
3. If these anuses could talk. This sign is from an anti-gay protest organized by religious groups in Kampala, Uganda in 2007. It gets right to the orifice of the matter: "Anus 4 defication." The tagline, "A spoon is a spoon & a spade is a spade," reminds us that an anus is an anus. And it's for defecation. Nothing more. Nothing less. 
4. God loves "God Hates Fags" apparel for kids!This isn't a sign, per se, but it is an effective and kid-friendly way to spread the homophobic and hateful word of god. Kids love shirts that say God Hates Fags (I mean, just look at how happy the little girl is)! And God Loves Parents who use their children as ideological props and dress them in propaganda expressing something kids definitely don't understand! With these Westboro Baptist Church motto shirts, you can really wear your lack of heart on your children's sleeve.
5. Men at devious work.Sometimes, a picture speaks 1,000 words. And when the words are in Serbian, it's especially helpful. This is another kid-friendly and accessible way to say, "I'm really insecure."
6. Don't think I forgot about Jews! (One of the greatest benefits of being Jewish is being able to make corny you/Jew puns.) I would be remiss to overlook the way some Orthodox Jews have contributed to this wonderful tradition of clever, homophobia-inspired signs. This ominous sign was held by ultra-Orthodox men protesting a 2010 gay pride march in Jerusalem. I'm sure it caused lots of marchers to question their homosexuality.
7. Giraffe-curious.This ultra Orthodox Jew, protesting in New York, is clearly inspired by a rabbinical, dialectical, questioning tradition as well as a strong sexual attraction to animals. He provides two examples of how homosexuality is just one slippery slope away from bestiality.
8. Homosexuality causes baldness.I recognize the word "Transeksual," at the bottom of the banner. And kriminal looks like criminal. So, I'm going to have to assume that the sign says something along the lines of, "Homosexuality is criminal and linked to baldness." Actually, I just checked. And it means, "Forbidden, Crime and Disgusting." Lovely! The faithful had gathered to protest against the planned International Lesbian, Gay, Bisexual, Transgender and Intersex Association's regional conference in East Java, which wound up being canceled because of security concerns.
Related Stories
Big Movement and Votes to Decriminalize Pot Across the Country
Posted on Wednesday August 20, 2014
In Michigan, voters in over a dozen municipalities, including Saginaw (population 51,000), East Lansing (population 49,000), Port Huron (population 30,000) and Oak Park (population 29,000), will decide on local measures to eliminate citywide penalties that prohibit the possession, transfer or use of cannabis on private property by adults for non-medical purposes. Voters in another Michigan city, Utica (population 5,000), will also decide on separate language seeking to deprioritize the enforcement of minor marijuana offenses by local police.
 
All of the measures are sponsored by the Safer Michigan Coalition and are part of the group's long-term strategy to incrementally change the state's marijuana laws, city by city, if necessary. In past years, voters in several of the state's largest cities, including Detroit (population 700,00), Grand Rapids (population 191,000) and Lansing (population 114,000) enacted similar measures. Earlier this month, voters in two more municipalities, Oak Park (population 30,000) and Hazel Park (population 17,000), approved similar ordinances.
Long-time Michigan marijuana law reform activist Tim Beck speculates that a clean sweep at the ballot box in November is "probably going to be the tipping point for Michigan to become a decriminalized state." 
 
In 2013, state lawmakers in the Michigan House and Senate introduced bipartisan legislation seeking to decriminalize the possession of up to one ounce of cannabis. To date, however, legislators in both chambers have refused to move the bill. Under state law, the possession of any amount of cannabis by non-patients is classified as a criminal offense punishable by up to one year in jail and a $1,000 fine.
 
Michigan is not the only state where voters will head to the polls to decide whether or not to depenalize pot possession penalties. In New Mexico, voters in Albuquerque (population 555,000) will likely decide on a citywide measure to reduce minor marijuana possession offenses to no more than a $25 civil fine. Santa Fe (population 69,000) voters will also decide on an identical citywide proposal this November. (Under New Mexico state law, the possession of marijuana for non-medical purposes is classified as a criminal misdemeanor, punishable by up to 15 days in jail.)
 
In Maine, voters in South Portland (population 25,000) will have the opportunity to decide on a citywide reform measure to eliminate all criminal and civil penalties pertaining to the private, adult possession of up to one ounce of pot. (Last year, voters in Portland, the state's largest city, overwhelmingly approved a similar ordinance.) Campaigns to place similar municipal ballot proposals before voters in Lewiston (population 36,000) and York (population 13,000) remain ongoing. Maine is one of a handful of states where marijuana reform advocates are gearing up for a 2016 statewide ballot campaign. (A 2103 legislative effort to place the legalization issue before state voters fell just four votes shy of House passage.)
 
But ultimately, arguably the most pivotal citywide marijuana-centric vote in this fall's election will be decided in the nation's capitol, when voters in Washington, DC (population 632,000) head to the polls to decide on I-71. This measure seeks to remove all criminal and civil penalties in regard to the adult possession of up to two ounces of cannabis and/or the cultivation of up to six plants. Although the plan is endorsed by some two out of three District voters, it still faces significant hurdles. If approved by District voters this fall, members of the DC City Council still possess the authority to amend the measure. Members of Congress could also potentially halt the law's implementation because they have oversight in regard to the implementation of all District laws.
 
Of course, voters in these numerous municipalities won't be the only ones determining marijuana's future this fall. Voters in three states, Alaska, Florida and Oregon will also be deciding on statewide marijuana reform initiatives this November. This makes 2014 one of the most important election years in history as it pertains to reshaping America's misguided pot policies.
Related Stories
Here's What Happens to Police Officers Who Shoot Unarmed Black Men
Posted on Friday August 22, 2014
In the week since 18-year-old Michael Brown was shot and killed by a police officer in Ferguson, Missouri, initial autopsy findings, police reports, and eyewitness accounts have begun to provide some insights into the circumstances of his death. But plenty of questions remain unanswered, not the least of them: Where is Officer Darren Wilson, and what's likely to happen to him? Wilson, who was put on administrative leave after killing Brown, reportedly lefthome with his family a few days before his name was made public. A fundraising campaign launched on August 17 has already raised more than $10,000 to cover the financial needs of Wilson's family, "including legal fees." (The campaign has since increased its goal to $100,000.)
It remains to be seen whether Wilson will face criminal charges, but a limited review of similar killings by police suggests that the officers more often than not walk away without an indictment, and are very rarely convicted. Delores Jones-Brown, a law professor and director of the Center on Race, Crime, and Justice at John Jay College of Criminal Justice, looked at 21 publicized cases from 1994 through 2009 in which a police officer killed an unarmed black person. Of those, only seven cases resulted in an indictment—for criminally negligent homicide, obstruction of justice, conspiracy, or violation of civil rights—and only three officers were found guilty.
Let's take a closer look at five specific cases in which an unarmed black man was killed by officers while allegedly fleeing or resisting in some fashion.
City: Memphis, Tennessee
Date: October 1974
Officers: Elton Hymon and Leslie Wright
Victim: Edward Garner
What happened: Officers Hymon and Wright were responding to a burglary call when Hymon spotted Garner, an unarmed 15-year-old, by a fence in the backyard of the home in question. After Hymon ordered Garner to halt, the teenager tried to climb the fence. In response, the officer shot him fatally in the head. A federal district court ruled that the shooting was justified under a Tennessee statute—the law said that once a police officer voices intent to arrest a suspect, "the officer may use all the necessary means to effect the arrest." Garner's father appealed, and the case ended up in the Supreme Court, which ruled the Tennessee statute unconstitutional and the killing unjustified. Justice Byron White wrote for the majority: "It is not better that all felony suspects die than that they escape. Where the suspect poses no immediate threat to the officer and no threat to others, the harm resulting from failing to apprehend him does not justify the use of deadly force to do so. It is no doubt unfortunate when a suspect who is in sight escapes, but the fact that the police arrive a little late or are a little slower afoot does not always justify killing the suspect. A police officer may not seize an unarmed, non-dangerous suspect by shooting him dead." Despite the reversal, the officer who shot Hymon was never charged.
City: Bronx, New York
Date: December 1994
Officer: Francis X. Livoti
Victim: Anthony Baez
What happened: Officer Livoti choked to death 29-year-old Anthony Baez in a case that would later be featured in a PBS documentary titled Every Mother's Son. After their football struck his patrol car, Livoti had ordered Baez and his brother to leave the area. When the brothers refused, Livoti attempted an arrest. After Baez allegedly resisted, the officer administered the choke hold that ended his life. Livoti, who had been accused of brutality 11 times over 11 years, was charged with criminally negligent homicide, but found not guilty during a state trial in October 1996. He was fired the following year, however, after a judge ruled his choke hold illegal. In June 1998, a federal jury sentenced him to 7.5 years in prison for violating Baez's civil rights, and the Baez family received a $3 million settlement from the city later that year. In 2003, two more cops were fired for giving false testimony in Livoti's defense.
City: Bronx, New York
Date: February 1999
Officers: Sean Carroll, Edward McMellon, Kenneth Boss, Richard Murphy
Victim: Amadou Diallo
What happened: Amadou Diallo, an unarmed, 23-year-old immigrant from Guinea, was killed in the vestibule of his own building when four white police officers fired 41 shots, striking him 19 times. Diallo had just returned home from his job as a street vendor at 12:44 a.m. when he was confronted by the plainclothes officers. The officers later said he matched the description of a rape suspect, and that they mistakenly believed he was reaching for a gun. (He was pulling out his wallet.) Three of the officers had been involved in previous shootings, including one that led to the death of another black civilian in 1997. The four cops were acquitted of all charges, prompting citywide protests. They were not fired, either, but lost permission to carry a weapon—although one of the officers eventually had his carrying privilege restored. In 2004, Diallo's family received a $3 million settlement from the city. His mother said her son had been saving to attend college and become a computer programmer. A foundation in Diallo's name seeks to promote racial healing.
City: Los Angeles, California
Date: October 2000
Officer: Tarriel Hopper
Victim: Anthony Dwain Lee
What happened: Lee, a 39-year-old black actor who had roles in the 1997 movie Liar Liar and the TV series ER, was attending a Halloween party when the LAPD showed up, responding to a noise complaint. According to police accounts, a group of officers were searching for the party's host when they found Lee and two other men in a small room, engaged in what the police claimed looked like a drug deal. Lee, who was dressed as a devil, allegedly held up a toy pistol, whereupon Officer Hopper fired several times, wounding him fatally. The LAPD's internal review board determined that the shooting was justified because Hopper had believed Lee's pistol was real and feared for his life.
City: Oakland, California
Date: January 2009
Officer: Johannes Mehserle
Victim: Oscar Grant
What happened: Early on New Year's Day, BART transit officers responding to reports of fighting on a train detained Oscar Grant, 22, and several other men on the platform at Fruitvale Station. In an incident captured on cell phone cameras, Officer Mehserle pulled out his gun and fatally shot Grant, who was face down on the platform at the time. Mehserle later testified that he thought he was reaching for his Taser while trying to put handcuffs on Grant, who resisted. A jury found Mehserle guilty of involuntary manslaughter and sentenced him to two years in jail. He was released after serving 11 months at the Los Angeles County Jail. The episode was turned into the acclaimed 2013 feature film, Fruitvale Station.
Related Stories
5 Items You Use Every Morning That Are Terrible for the Environment
Posted on Friday August 22, 2014
Natural resources such as water, trees, land, and minerals are the base of products we use every day. But through intense manufacturing and complex supply chains it can be difficult to picture where these products even originated and what they went through before reaching our homes. These products probably won't be disappearing from your life anytime soon so it's beneficial to understand the inputs and impacts to have complete information and choose sustainable options. Here are the main environmental concerns of 5 items you come across even before you leave the house:
1. Coffee. Water pollution and deforestation are environmental impacts that plague our morning cup of joe. In 2005, 85% of the forested areas in a national park in Sumatra, Indonesia had been illegally deforested and converted to coffee plantations. Moreover, one of the major sources of river pollution in Central America is coffee processing plants since large volumes of wastewater are generated from the separation of the coffee bean from the cherry. To minimize the environmental footprint, look for shade grown or traditionally grown coffee which is highly beneficial to biodiversity conservation in tropical forest ecosystems. Shade grown coffee also has lower chemical inputs than conventional coffee because the natural vegetation reduces plants' susceptibility to pests.
2. Toothbrush. The plastic and nylon that make up the handle and bristles of your toothbrush both come from petroleum, a non-renewable resource with a long list of negative environmental impacts. Manufacturing nylon not only creates nitrous oxide, a greenhouse gas 310 times more potent than carbon dioxide, but it's an energy and water intensive process that results in runoff. Although it's difficult to get away from the nylon bristles, alternatives do exist. Most environmentally friendly toothbrushes are made from recycled plastic from other products such as from yogurt containers or medicine bottles, or renewable resources such as wood or bamboo.
3. Cotton clothing. Growing cotton is water-intensive: according to WWF, it can take 2,700 liters just to produce the cotton needed to make a single t-shirt. That is enough water for one person to drink for 900 days. Most of the world's cotton is grown in the U.S., Uzbekistan, China, and India and it is also considered one of the dirtiest crop due to reliance on insecticides that decrease biodiversity and contaminate local water sources. Consider organic cotton which doesn't rely on insecticides so soil nutrients and biodiversity can be preserved and other natural materials that require less water, a resource in increasingly short supply.
4. Plastic Containers.Between shampoo bottles, yogurt, and tupperware to pack lunch in, plastic is a mainstay of the morning routine. Plastic is made from petroleum, a fossil fuel which releases toxins and greenhouse gases that contribute to climate change, According to NRDC, it has been estimated that the plastic industry emits 14%of the most toxic industrial releases, including styrene, benzene, and trichloroethane. Many resort to plastic because it's lightweight, cheap, and reliable, but glass containers are an easy and smart alternative; glass is made from sand, silica and limestone, which are less environmentally damaging to extract than petroleum, and not to mention, less toxic.
5. Cell phone.Cell phones are composed of gold, silver, platinum, and copper, which are all rare earth elements that are in finite supply and drive the global extractive industry. Sources of such rare earth elements are located all over the world, but the majority of these mines are in China. Toxic mine drainage is probably the biggest environmental concern associated with gold-mining and it can displace communities, contaminate drinking water, hurt workers, and destroy pristine environments. It pollutes water and land with mercury and cyanide, endangering the health of people and ecosystems. Unfortunately, the extraction of most metals and minerals exhibit similar environmental impacts and there are currently no effective metal substitutes for producing cell phones.
It's easy to forget or often we don't even know what natural resources are utilized to produce our most prized possessions that we have come to rely on every day. However, it is important not to take these resources for granted and consider ways in which to we can reduce use or choose more environmentally friendly alternatives. Why not start the day off right by considering that the products you use often started out as raw materials in foreign countries, and the long journey they went through before making it to your home?
Related Stories